This incredible blend of cleaners, polishes, acrylic polymers and carnauba wax will give you the quickest, deepest, wettest, longest lasting high gloss show car finish ever! I know it's hard to believe, but Power Shine performs all of the following functions brilliantly:
fills in spiderwebbing and removes swirl marks
removes small scratches and light oxidation
cleans bugs, tar, sap, grease, and water spots
cuts waxing time by 75% (wax and polish an average size vehicle in 15-20 minutes)
super easy on and off application with no streaks, hard rubbing or buffing dust
leaves and amazing wet gloss finish on all automotive paints, even black
acrylic polymers and carnaubas produce a three month water bead
great for cars, boats, motorcycles, airplanes and any hard, non-porous surface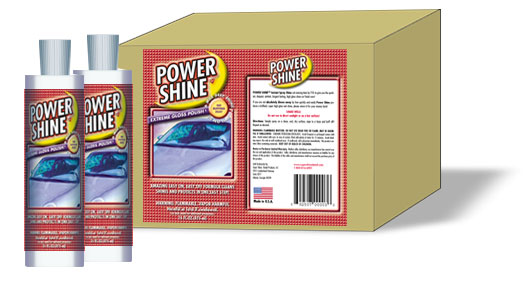 Power Shine represents the latest revolutionary advancement in waxing and polishing technology that the car care industry hasn't seen in quite some time. Let's face it, other companies try to sell you 3 or 4 step polish and wax systems that still don't perform as well as one bottle of Power Shine! And remember, most of the outdated formulas were developed over 20 years ago! At that rate it will probably take those corporate geeks at least five years to catch up to our formula!

Power Shine is fully guaranteed to do everything we say or your money back. (But it might take us a little time to process because we'll have to look up the procedure in the training manual since we've never had any returns!)

So throw that other crap away and stop wasting precious time and money and get the best paint finish possible with Power Shine!
Click here for ordering information.
---
© Super Shine Detail Products, LLC. All Rights Reserved.